Volodymyr Pankiv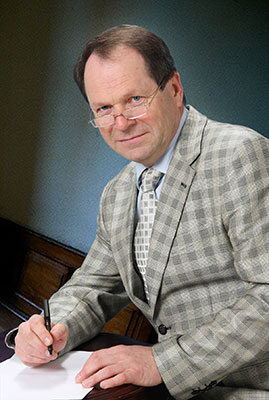 MD, Head of Department of prevention of endocrine diseases of the Ukrainian Scientific and Practical Centre of endocrine surgery, transplantation of endocrine organs and tissues Ministry of health of Ukraine. e-mail: endocr@i.ua
Prof. Volodymyr Pankiv is a Director of Department of Preventive Endocrinology at Ukrainian Scientific and Practical Centre of Endocrine Surgery (Kiev, Ukraine) since 2006. As an academic leader in endocrinology in Ukraine, he is the member of the editorial boards of Ukrainian journals including «Clinical Endocrinology and Endocrine Surgery», «Problems of Endocrine Pathology», «Diabetes, obesity, metabolism», «Ukrainian Journal of Pediatric Endocrinology», «Bukovinian Medical Herald», «Practical Angiology», «Pain. Joints. Spine». He participated in the development of national health industry standards, i.e. Type 2 Diabetes mellitus. He is the editor-in-chief of the book Hyperthyroidism in Clinical Practice. He is the contributor of six monographs including Type 2 Diabetes Mellitus, Practical Thyroidology, Iodine Deficiency Disorders. He also authored some books for the general public in Endocrinology. He has an extensive international record in diabetes, thyroid pathology and iodine deficiency disorders research, particularly in epidemiology and public health.
Education MD, Ivano-Frankivsk State Medical Institute (1979) PhD, Institute of Endocrinology and Metabolism, Kyiv (1988) DSc, Institute of Endocrinology and Metabolism, Kyiv (1997) Professor, Bukovinian State Medical University, Chernivtsi (2003) Prof. V.Pankiv serves on a number of national committees and has organized and/or co-chaired several international symposia. He has authored more than 200 peer-reviewed publications, and written more than 50 review articles, as well as numerous book chapters.
Research Key words: Diabetes, Thyroid pathology, Iodine deficiency disorders, Epidemiology Professor Pankiv's current areas of research include continuing his epidemiology activities in Ukraine. He continues his research in type 2 diabetes, thyroid pathology, osteoporosis, vitamin D deficiency, currently initiating a research collaboration between Ukrainian Scientific Centre of Endocrine Surgery of Health Ministry of Ukraine and Scientific Centre of Endocrinology of Republic of Uzbekistan. The collaboration focusses on research on autoimmune thyroid pathology to understand the epigenetic mechanisms that may explain the relationship between autoimmune thyroid pathology and vitamin D deficiency.
Publications Professor Pankiv has published over 500 papers. orcid.org/0000-0002-9205-9530
Professional and other memberships profile Member of European Association of the Study of Diabetes (EASD) since 1994 Member of European Thyroid Association (ETA) since 1998 Member of National Union of Journalists of Ukraine (since 2008) Awards Dr. Volodymyr Pankiv was granted the title of Honored Physician of Ukraine, according to Presidential Decree in 2000. By this decree President of Ukraine awarded V.Pankiv for significant personal contribution to development of the Ukrainian health care system, provision of skilled medical aid and high professional mastery.
His Last name was published in the reference books: - the International Biographical Center of Cambridge: International Health Care Professional of the Year 2005 (2005) - Who's Who in Science and Engineering (USA, 2005-2006) - Honored Names of Ukraine. Elite of the State. Tom IV (2017) On the version of magazine «Focus» (December 2009) V.Pankiv is included to the number of 50 the most prominent practical physicians of Ukraine.